Workshops
Public and private workshops are available through appointment only. Please contact us with the time, date, and number of participants for a quote. Available classes and services include large-scale woodblock carving and printing, screen printing, experimental printmaking, murals, critique, curation, consultation, and branding. Please visit our "Contact" page to reach out with any information detailing your request. Thank you!
---
Work
MAC EN EL BARRIO EN NYC ART & RESEARCH RESIDENCY
The Museo de Arte Contemporáneo de Puerto Rico (MAC) and the Center for Puerto Rican Studies at Hunter College (CENTRO) have joined forces to develop the "MAC en el Barrio in NYC," an artistic/research residency aimed at Afro-descendant Puerto Rican artists from the diaspora.
The MAC and CENTRO call on visual artists to present proposals where their creative processes integrate documentary research, making use of the archives of the Center for Puerto Rican Studies, and community immersion methodologies that promote cultural equity and give visibility to the experience of the Puerto Rican community in New York.
MAC en el Barrio is the extramural program that the Museum of Contemporary Art has been implementing since 2014 in Puerto Rico and intends for it to extend to the Puerto Rican community in the United States in successive phases and in different locations.
Read the Press Release Here
Watch the Artist Presentation Here
Browse the Artist Research Webpage Here
El Encuentro
"El Encuentro" is a shadow puppet performance that details the history of the Caribbean through Taino folklore, colonial history, and contemporary contexts.
Jacoub Reyes
El Encuentro
2023
Video run time: 4:50 min
SCREENING AT SELECT LOCATIONS
Te escribí esta carta
"Por dolor", Woodblock print on Banana Leaf, 16.75 x 22"
"Por miedo", Paper Collage, 16.75 x 22"
My Colonial Body
Photographed by Brianna Jimenez/ Cielo Creative Co.
My Colonial Body is a series of photographs, watercolors, prints, drawings, and new media that details the mixed-race experience through a medical and historical lens. These distant and segmented bodies depict the physical and emotionally taxing process of decoding each part of my cultural backgrounds. These experiments can be seen in Deciduous sentiments & abscission and others below.
Deciduous sentiments & abscission
Photographed by Brianna Jimenez/ Cielo Creative Co.
The origins of Cuban Oregano are unknown. Some say it's from the East Indies, or possibly Africa, but Cuban Oregano ranges from Malaysia, where it grows wild, to the Caribbean Islands, and it is cultivated from India to Southeast Asia to tropical and subtropical Americas. Cuttings were likely spread to Africa, the West Indies and Latin America and propagated by Spanish explorers and travelers. This speckled background makes it a versatile and resilient species. The connection between this plant and my background were profound realizations of "self" and the cathartic act of shedding the weight of expectation, doubt, grief, and uncertainty.
Posters
TOP ____ GENERAL INQUIRIES ABOUT PAKISTAN FROM AN AI-GENERATED AMERICAN COLONIAL LENS
Jacoub Reyes is an interdisciplinary artist who examines the relationship between his cultural heritages. In this project, he focuses on his childhood and asks fundamental questions to unravel his tangled and confusing upbringing. His father, an immigrant from Pakistan, had partial visitation rights throughout his early years. This turbulent and fragmented relationship between father & son, Islam, and cultural traditions left Reyes wondering if the two were mutually exclusive.
TOP ____ GENERAL INQUIRIES ABOUT PAKISTAN FROM AN AI-GENERATED AMERICAN COLONIAL LENS explores popular culture, religion, love, and politics through a list of inquiries sent through several search engines. The results reflect algorithmic patterns that occurred on December 14, 2022, from 10:08 AM to 3:32 PM EST. By using technology, Reyes asks search engines questions about his identity, relying on machine learning to shape the perception of his personal experience. These functions allow for second-guessing and exposing humans' trusting nature as a survival response, closely mimicking Reyes' upbringing. Ultimately, he aims to reclaim an identity beyond AI, ethnicity, or nationality and trust in his lived experiences instead.
ON VIEW AT THE ASIAN ART MUSEUM, SAN FRANCISCO, CA
University of California, San Francisco's Library Artist in Residence
For the 2022 Artist in Residence program, I will examine UCSF's Tobacco Control Archives, IDL's Sugar Collection, and Japanese Woodblock Print Collection to create a narrative surrounding the crops and their relation to colonialism. This health-centered project will expose the inequities found in Puerto Rico and draw similarities with Japan and the rest of the Caribbean by shedding light on past issues and how they are prevalent today and continue to affect the future. With this, I aim to bring awareness to colonialism's role in global health, well-being, and economy.
Read the Interview Here
Watch Woodblock Prints and Medicine: Sugar and Tobacco in the Caribbean Artist Presentation Here
Read Puerto Rico and the American Plantation System, a short research article by Jacoub Reyes. Here
Watch Tradition, Craft, and Technology: Making Woodblock Prints with New Media Here
Read News Article #2 Coming Soon
See the Exhibition Here
Download Jacoub's Zoom background image to help promote the Artist in Residence program in your next Zoom meeting: Download
a change of worlds
I would like to acknowledge that this project took place on the unceded ancestral lands of the first people of Seattle, the Duwamish People. A people that are still here, continuing to honor and bring to light their ancient heritage. With gratitude to the land itself and the Duwamish Tribe, we pay our respects.
Over a year in the making
This 2-week initiative, in collaboration with Sidereal Fine Art Press, consisted of three workshops and two large woodblock print demonstrations with the community in the surrounding area. We pulled over 180 impressions collectively. During this time, I created a two-plate, 10-color woodblock print and a 4x8 foot, 5-color woodblock print as well. These print were made to support the efforts of the Duwamish Tribal Members and their struggle toward federal recognition.
Press Release
Over seventy-five community members participated in the week of art events fully funded by 4Culture and the City of Tukwila Art Commission. Flexcut Carving Tools donated beginner's tool kits and other art supplies. Jacoub Reyes will be gifting a 4x8 foot woodblock print and two 3x3 foot woodblock print for the Duwamish Tribe Annual Gala auction and fundraiser.
Reyes and Coppola met in 2020 at Sidereal Fine Art Press during a studio visit. In 2021, Reyes proposed a collaboration between the two. Coppola is a respected and longstanding small business owner and artist. After learning about the history of the Duwamish Tribe, in Tukwila, it was evident to Reyes that this collaboration should center around and honor this indigenous group.
"My practice often revolves around systemic issues and decolonization. When I proposed the idea of working with the Duwamish and the community to Sheila, it was clear that the collaboration should happen as Sheila has relationships with the Duwamish Tribe and is active in her community. I'm passionate about partnering with indigenous and marginalized groups to uplift their voice and stand with them. The work we're doing here to foster a safe place of trust for the City of Tukwila and the Duwamish Tribe is necessary and important."
Support
If you would like to learn more about the tribe or donate to their cause, please visit the Duwamish Tribe Website and Donate to the Duwamish Tribe
Humankind has not woven the web of life. We are but one thread within it. Whatever we do to the web, we do to ourselves. All things are bound together. All things connect. - Chief Si'ahl
Funded by 4Culture and the Tukwila Arts Commission.
earth and her spirits
This small series highlights native fauna and their relation to spirituality. My ancestors believed that these zemís referred not to an object or image but to an immaterial, spiritual, and vital force pertaining to deities and ancestors.
juracán
Juracán, Woodcut and acrylic, 30x30"
donde estoy (where i stand), alfred, NY
This project was based on found materials sourced around Alfred University's campus. I dove into the library's special collections and archives to research source material on five Taino vessels housed in the Krevolin Collection, located in the Alfred Ceramic Museum's archives. The opportunity to hold my ancestors works of art and devotional objects was surreal. I created a book detailing these uninvestigated works by providing updated pictures, context, and background information. Through this, the works were informed by the research, site-specific locations and plants, and materials.
POINT OF REFERENCE, shinnecock indian reservation
"Every conversation of oppression, the intersection of religion and activism, how politics have corrupted and yet propelled countries forward in development are all conversations that have echoed throughout time as culture has shifted, albeit sometimes like a pendulum," Reyes said.
"Point of Reference" features woodblock prints on paper alongside photographs of natural elements found throughout the Shinnecock Territory, as well as the mural installation.
"Preservation of the native and the indigenous are essential to understanding our ancestral past and our perceived future. The resilience the Shinnecock Nation has displayed to thrive under the pressing colonization, and the effects thereof is a testament that BIPOC individuals must take action or we will all soon erode back into the sea," Reyes said.
The mural installation is a tribute to six multi-generational Indigenous women who have created the Shinnecock Kelp Farmers. The women are addressing the climate crisis by operating a kelp hatchery, which is essential in combating the erosion experienced along the nation's shorelines. The realized human and natural symbiotic relationship moved Reyes to create the work.
"With nature as the only tangible thing to grasp, it's our only point of reference," he said. "The earth holds all of our fates, but the spirit survives long past our bodies' expiration date. I dive into my Taino ancestry; I recognize the shared connection points. There is intentionality directed to honoring the natural and mysticism [spirituality] that surrounds us.
"Being here as a guest on this land had ripple effects I couldn't have imagined. I feel kindred."
Reyes shared that from his first walk around Ma's House, there was an inherent need for the native organisms and life found to become anthropomorphic. As he studied and researched more through the library offered at the residency, he found that the pull toward intertwining spirit and tangible organism came together.
"I've been interested in creating my history. I find natural things useful, usable, and essential to ecosystems," he said. "I depict these plants as spirits that rise from the natural world and into the spiritual realm. With this, I allow myself to put a face to the plant. It's a way for me to understand a bit more about the plant and its uses through interaction, research, and discovery."
la sagrada botánica
Palms, straw and brush drape over an opening in a bohio, or hut, of native Tainos. An orange glow radiates from the spaces in between the fronds and casts beads of light onto the asphalt. The concrete jungle looms above and the electrical hum radiates around the hut like a dark wind. Sounds and dances emanate from the interior, drawing others into a communal and sacred space. This space, on top of ground that was revered as important, is now being reclaimed. The images hanging on the sides depict native plants fighting for their lives as invasive one's choke or cover anything in their path.
"La sagrada botánica" was an installation and performance that took place October 2021 at Immersefest in Downtown Orlando.
las cosas que llevamos
My newest ongoing series, "Las cosas que llevamos (The things we carry)," explores native life pre- and post-colonization with a focus on nature, relationships, and spirituality. I'm inspired by ancient petroglyphs of the Taino peoples and their beliefs.
Symbolically, butterflies represent life, endurance, change, and hope and are often associated with souls. The Christian belief considers them a symbol of resurrection. These two meanings resonate with me because it represents a growing diverse, equitable and inclusive future for people of color.
Deep-Seeded
Deep-Seeded is an ongoing series that explores the relationship between native and invasive species of plants. The first piece, "carne de mi carne" translates to flesh of my flesh. Showcased in this piece are wild coffee, a native plant in the Caribbean and Florida and Coral Ardisia, planted by settlers. The former is edible and medicinal while the latter is poisonous. I want to explore the relationship between these plants to determine the parallel themes of colonialism in our own human ecosystem. I began with the following questions; how is dividing and conquering a part of nature, how can we reclaim the past and make it part of our current history, is it possible to return to a state before invasive species? By asking these questions and finding answers through nature, we see a very unforgiving look at the world today. The native plants are continuously at war with the invasive species, trying to keep its land, struggling to grow deep roots, survive the changing composition of the soil, fighting against the strangling vines that choke out life while they dwindle down to nothing due to lack of sunlight from invasive plants with overgrown leaves soaking it all in, leaving whatever lives below it to die.
"If you look far enough beyond your adversities you will always find something to believe in; something to be proud of." -Taino Proverb
Public works
The New Silk Road
Columbus set out to find valuable silks and spices to bring back to Europe. What he found instead was something far more valuable- an unadulterated culture that exploited for labor and resources. Silk turns to sugar and becomes the luxury of the rich in Europe and the fodder for the poor in the New World. These woodblock prints: Columbus' ship, "Santa Maria: Dios nos bendiga", a chicken fight "Pelea de gallos", and the shroud of Turin "Shroud", are all printed on found silk. These three images represent conquest, culture clash and religious influence that was integrated in the new found colonies.
Transformed Beliefs
Each of these images depicts common Biblical themes and their relation to individual experience. My upbringing as a person of color in a house split between Catholicism and Islam had a profound affect on how I viewed and interacted with belief systems. Most Christian imagery seemed disconnected from the central story and meaning. On the other hand, Islam art in the mosques centered around mostly geometric design which creates an open interpretation. These two religions both rarely showed black and brown figures as the center of the story.
In this series, I merged these religious and cultural ideas found in my heritage together to create a narrative that evokes inclusion. The first image, "Two Figures (after Dürer)" is a two meter long woodcut that takes inspiration from the story of Adam & Eve. This image depicts two native figures segmented by a snake coiled around a bone and pomegranate. The snake in this images represents not only evil, but also good.
"Pietà (after Michelangelo)" depicts a mother holding her dying baby, a similar scene to Mary holding her son, Jesus. The shadow around the infant is that of a slain lamb. The angels below her are mourning the death of her son as she stands on a crescent moon. In this image, the figures were modeled by women that have lost their children in war-ridden areas.
"Road to Damascus (after Géricault)" depicts a raft of people fighting for their lives in the midst of a tumultuous ocean. They have sewed their clothes together to create a sail as pieces of cloth are carried away with the wind. The vain hope of surviving long enough to reach land.
Human life abandoned to its fate.
"Flagellation (after Gregorio Fernández)" shows a black figure tied to a tree. Much like Jesus, most of the Caribbean and black population were subject to harsh conditions and death. Here, his somber gaze is directed to a single falling fig leaf, representative of the fall of the global economy that has been created from exploitation and offering a chance for repentance and forgiveness of these wrong-doings. Faith that the tree would bear fruit also resonates in this piece as a sign of hope.
"Rebuilt Temple" is the final piece in this series. It depicts the entrance and minarets of a mosque with a Catholic church in between. The designs found on the outside are icons that overlap both beliefs such as eyes, suns, dots, moons, stars, and other various lines.
countable/uncountable
For this exhibition, I constructed a boat out of found materials. The sail is made of used undergarments and clothing. The rest of the boat is made of found pallets and aluminum canisters that held oil on top of a tarp. I wanted to create a piece that viewers could walk around and interact with. On the boat, I had placed burlap sacks that held Caribbean staples such as yucca and boniato along with lace handkerchiefs, twine, rope and plastic bottles with messages in them. Viewers were able to read the notes and pick up items on the boat to see how it made connections with the surrounding works.
This installation is my response to The Raft of the Medusa by Théodore Géricault. I created this makeshift raft in response to the stories that my grandfather would tell me about his voyage from Cuba to America. People would have to create sails and anything else they needed out of materials that were readily available to them.
the plant we found turn into a flower but shortly died thereafter.
This installation was based on a series of interviews I conducted with people of color that had immigrated to the United States. The prompts not only covered logistical aspects of their move but also the emotional responses and effects that it had on them. They carry these experiences with them everyday and it continues to shape them into the people they are becoming. Viewers were able to hear their first-hand experiences and connect with them through their own words.
As I was transcribing these interviews, I began to draw images that connected me to the interviewee. I created two images; hands interlocked with one another and dried roses floating on water. These images represented something beautiful yet tragic that was found throughout each of their stories: the prospect of a new life and the absence of their previous one.
Audio clips and transcripts of the interviews can be found above.
New World Strange Land
Repetition, ritual and disease- these elements have the ability to spread from person to person through physical and spiritual environments, some a choice and some more intrusive and involuntary much like the pandemic we see today.
I chose to print these woodblocks onto hand-printed floral cloth. The abstracted images of the altar to Elegua and the child experiencing small pox become ornamental and commonplace when placed in an external area. This parallels the idea about how our past informs the present and future. Many are still focused on forgetting as a way of acceptance and moving forward.
dar y recibir
Dar y recibir (to give and receive) is a print installation that incorporates Voodoo, Santeria and Christian imagery to describe how colonialism has altered the life and religion of Caribbean people. Cloth was a major carrier of disease and aided in the transference of small pox and other illnesses from European settlers to indigenous populations. This simple act of commerce ended in the almost complete destruction of native peoples. This piece is located diagonally from a Catholic church and offers a counterpoint for conversation of life before colonization.
The center scene with three crosses highlights how the Christian religion was used, in addition to other tactical ways of gaining power and influence. Here, a child takes his last breath as an angel flies out of his mouth, symbolizing the soul leaving his body. Three crucifixes show bodies in a transcending motion as they levitate above the little boy. Their bodies are riddled with several dots, which represent areas affected by small pox. Many passersby also describe the figures as shooting range targets- an interestingly simple and profound connection.
The pyramid segment depicts an alter dedicated to the deity of the crossroads, Elegua. This Orisha, commonly found in Santeria, is derived from Voodoo. I chose Elegua for this installation because the building is on one of four corners, that being a crossroads. He also holds the keys to the past, present, and future which is the perfect descriptor for the installation as a whole.
The 3-dimensional cloth element segment highlights the transference of diseases from Europeans to Native peoples. The cloth is printed with a woodblock design commonly found on Victorian wallpapers. The use of multiple art styles that span from the Renaissance to today is a representation of how prevalent colonialism is entwined in our everyday lives.
The segment of various square prints highlights the work of students that attended my woodblock pattern workshop in Tlaquepaque, Mexico. I wanted to incorporate their designs into the final installation because they have personally faced colonialism from Spain and the United States. Including their stories and images fostered local community involvement and translated the meaning of the installation even deeper. Their shared history and trials of experiencing colonialism, similar religions and personal trials show how cyclical the experience of the native person is and how often our patterns connect.
Shadow Play: Veiled Truths
"Shadow Play" explores the influence of European colonialism on Caribbean islands. The shadows are created by lights that shine through hand cut paper. These small stencil-like images are suspended in the space and create large shadows on the wall. The "demons" depicted throughout this interactive installation were how the natives were viewed by European colonizers. The natives were considered uneducated savages that needed the European structure to achieve the graces of God and the fortune of future industrialization. The tension between these opposing themes creates a narrative that the audience can follow and apply to their own stories.
Garden of Gethsemane
Chicken feet and chicken feet pearls dangle from the rafters of the gallery. These elements have layered meanings based in religion and geography. A "salt of the earth" spiral can be found on the floor. As the humidity in Florida dissolved the salt, the audience tracked ghostly footprints around the gallery. This exhibition showcased the woodcuts and accompanying prints so that viewers could see the process behind the image.
Arabesque at the Albin Polasek Museum
As I delve into my Southeast Asian heritage, I have become inspired by the complex patterns and elements of design found in non-western art. As I find ways to push the limits of the square, I unlock an infinite realm of possibilities within this restriction. Here, I focus on various elements to create a narrative based on non-representational design.
About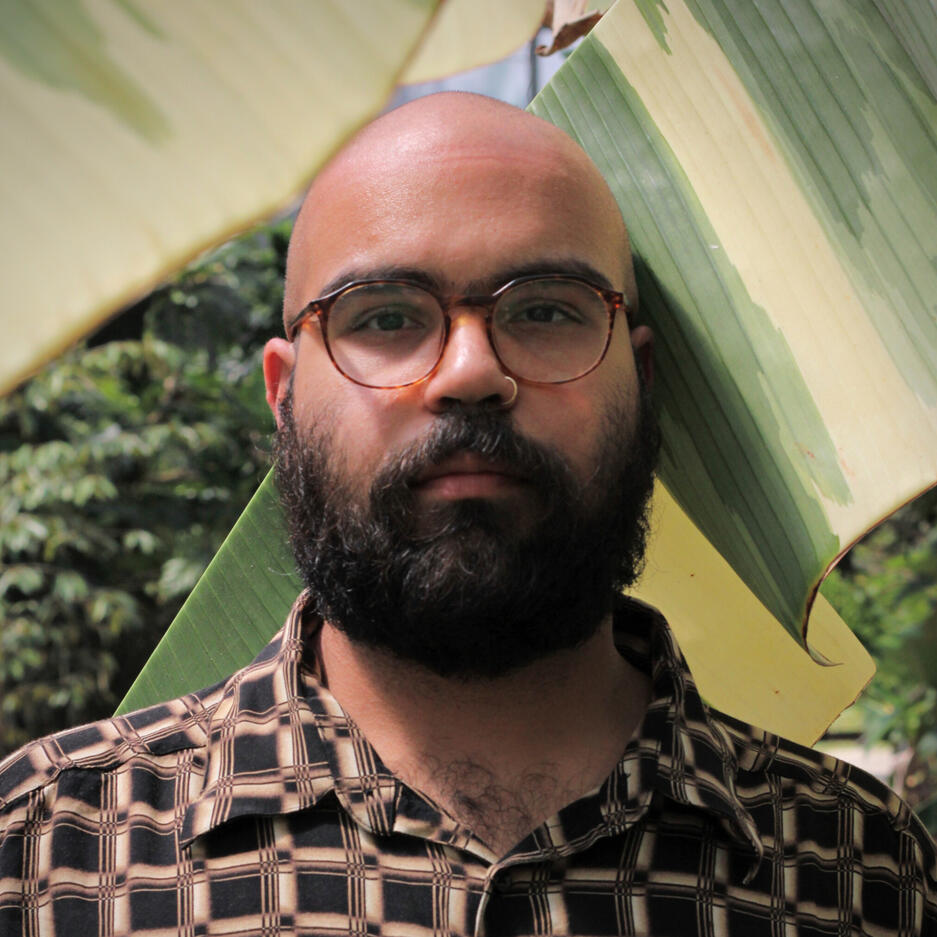 "I want to be a catalyst for change- to create an equitable community around different modes of practice, decolonize education and eliminate gatekeeping to encourage critical thought and discourse at any stage, and open museum and institutional spaces to self-taught artists and curators that highlight underserved and marginalized voices." - Jacoub Reyes
I excavate my individual and ancestral biographies to unearth my cultural heritage. My layered identity invites me to see taxonomy as a system that requires decolonization. My mother is a first-generation Catholic Caribbean; my father is Muslim and a South Asian immigrant. My mom moved us from the industrial inner-city of the North to the expansive suburbia of the South, just as the war on Iraq gave way to a new wave of racism and Islamophobia. Later, I began to name the societal pressures that led to the self-removal of large parts of my racial and ethnic tapestry that reduced my proximity to whiteness. Much of my work synthesizes this research and uses the body metaphorically to symbolize complex internal emotions associated with the colonial and diasporic experience.
My caretaking work in gardens led to research on restoring natural areas through reintroducing and cultivating native plants, animals, and insects. I found myself outside in the Florida sun many days, working with many of the subjects and themes now present in my work. The anthropomorphic figures of the natural world ingrained in my large woodcarvings and installations identify unresolved tension and stress. I am invested in dismantling the boundaries between oral history, academia, personal stories, and ancestral trauma; instead, I see these as essential parts of a complete narrative. I aim to redefine the trauma responses of fight, flight, freeze, and fawn as instruments of colonization. Primarily, my work focuses on recontextualizing Caribbean art through a diasporic lens.
I challenge the contemporary communication of the mixed-race or multi-cultural experience. Mixed cultural identity is not relegated to a hyphenated background; but rather a sum of all parts that are interdependent and foundational. The faceless figures of invasive and native plants examine the multiplicity of colonization. Displaying native and invasive plants in various tensions and settings upheaves how we see and experience race, class, and ability. My process to create these works involves finding materials, making tools, and printing without a press or traditional technologies. I work within a space deeply grounded in tradition but flourishes only due to innovation and creativity.
BIO
Jacoub Reyes is an interdisciplinary artist based in Central and South Florida, primarily working in printmaking and large-scale installation. His work utilizes experimental techniques to unravel his complex mixed-cultural heritage to build an imagined future based on belonging and resistance.
He has had exhibitions and interactive public performances at the Asian Art Museum, The Crisp-Ellert Art Museum, Frontera Galeria Urbana- Guadalajara, Museum of Latin American Art, Highpoint Center for Printmaking, International Print Center New York, The Mennello Museum of American Art, and Aqua Art Miami, among others. Reyes received awards and fellowships from the Foundation for Contemporary Arts Emergency Grant, South Florida Cultural Consortium Grant, 4Culture Grant, Broward County's Artist Innovation Grant, The Puffin Foundation, Allies in Arts Grant, Immerse Artist Grant, and Awesome Grant. Notable residencies include MAC en el Barrio Residency at Hunter College, NYC (2023), The University of California-San Francisco's Library Artist in Residence (2022-23), Alfred University's BIPOC Artist Residency (2022), and Ma's House BIPOC Artist Residency (2021). Reyes is the Artistic Director for the City of Boynton Beach's Quantum Eco-Park and President of the Florida Printmakers Society.
Reyes received his BFA from the University of Central Florida in 2013, where he was awarded the J.R. Hopes Scholarship.
Shirt presale
Thanks for supporting local artists!
Fill out this form, complete payment and hit submit.
Printing of shirts begin Dec 1. with an expected ship date of Dec. 10th. We will contact you with updates via email.
Contact
Fill out the form below for inquiries about acquiring work, scheduling a print workshop or any other questions.
MIAMI ART WEEK AQUA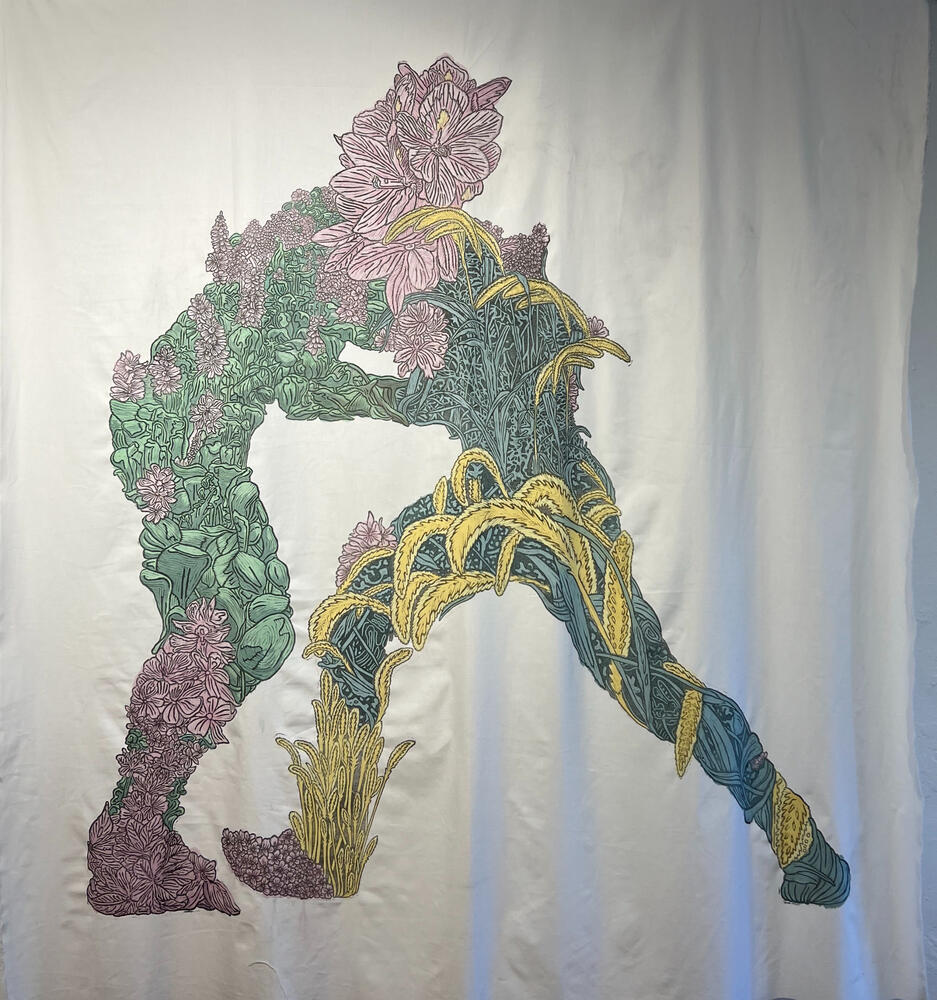 Guidance (Fountain Grass v. Water Hyacinth)
Woodblock print hand painted with natural watercolor pigment on unbleached linen
Size: 60x64"
Price: $12,500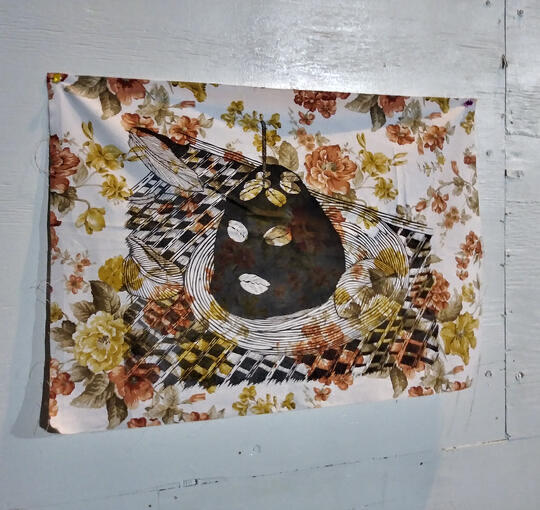 Offering to the Crossroads (Elegua)
Woodblock print on silk screened salvaged fabric
Size: 29x41"
Price: $3500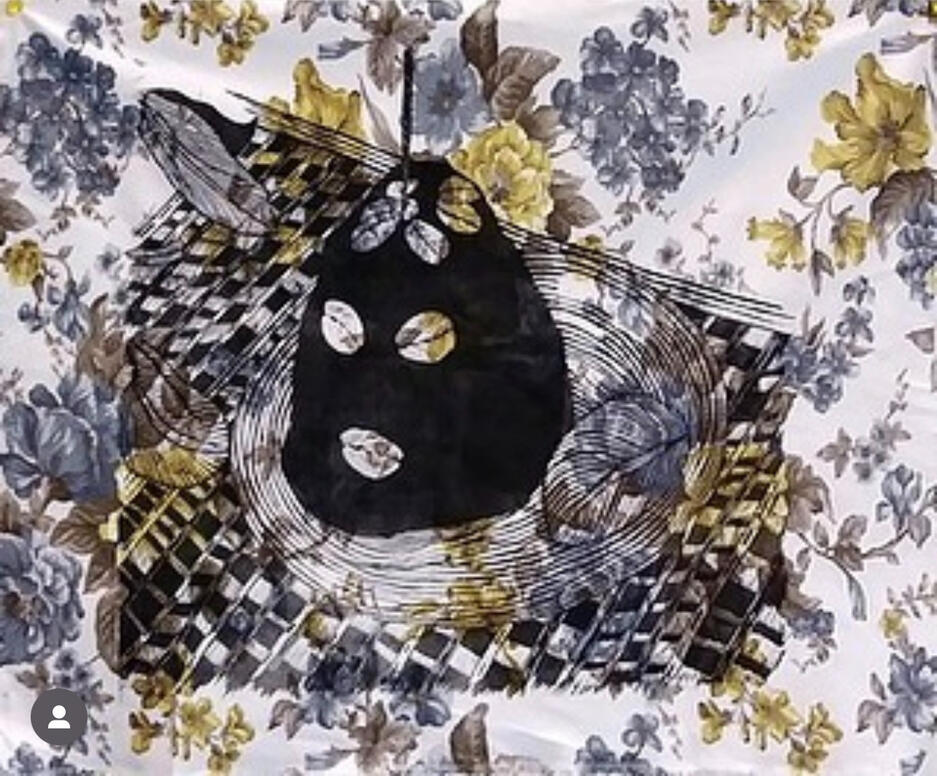 Offering to the Crossroads (Elegua)
Woodblock print on silk screened salvaged fabric
Size: 29x41"
Price: $3500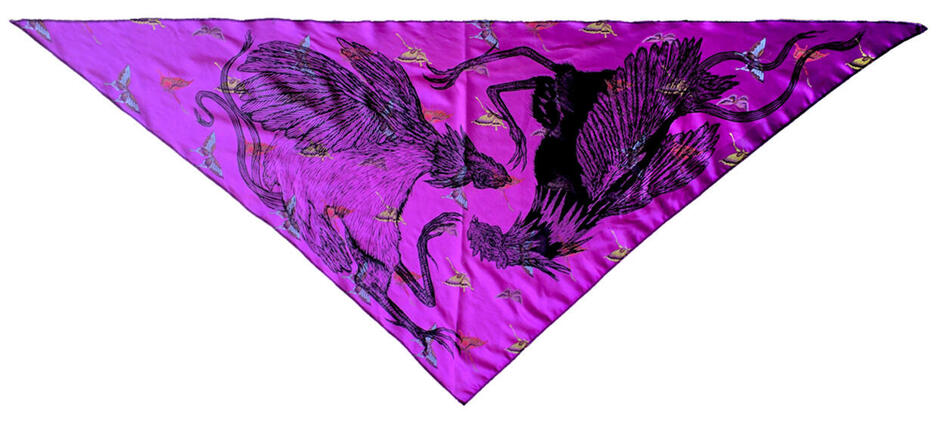 Pelea de gallos
Woodblock print on found silk
Size: 39x29"
Price: $6500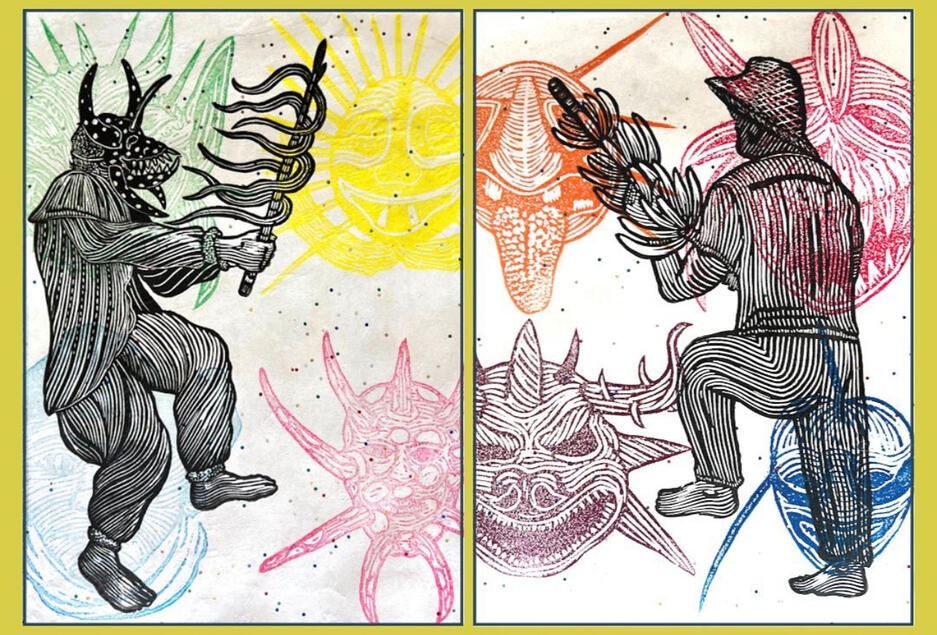 LEFT to RIGHT
Vejigante (Jíbaro)
5-color woodblock print on glitter tissue paper
Size: 8.5 x 11.5"
Price: $275Jíbaro (Vejigante)
5-color woodblock print on glitter tissue paper
Size: 8.5 x 11.5"
Price: $275
---
PRINTED LIVE AT AQUA ART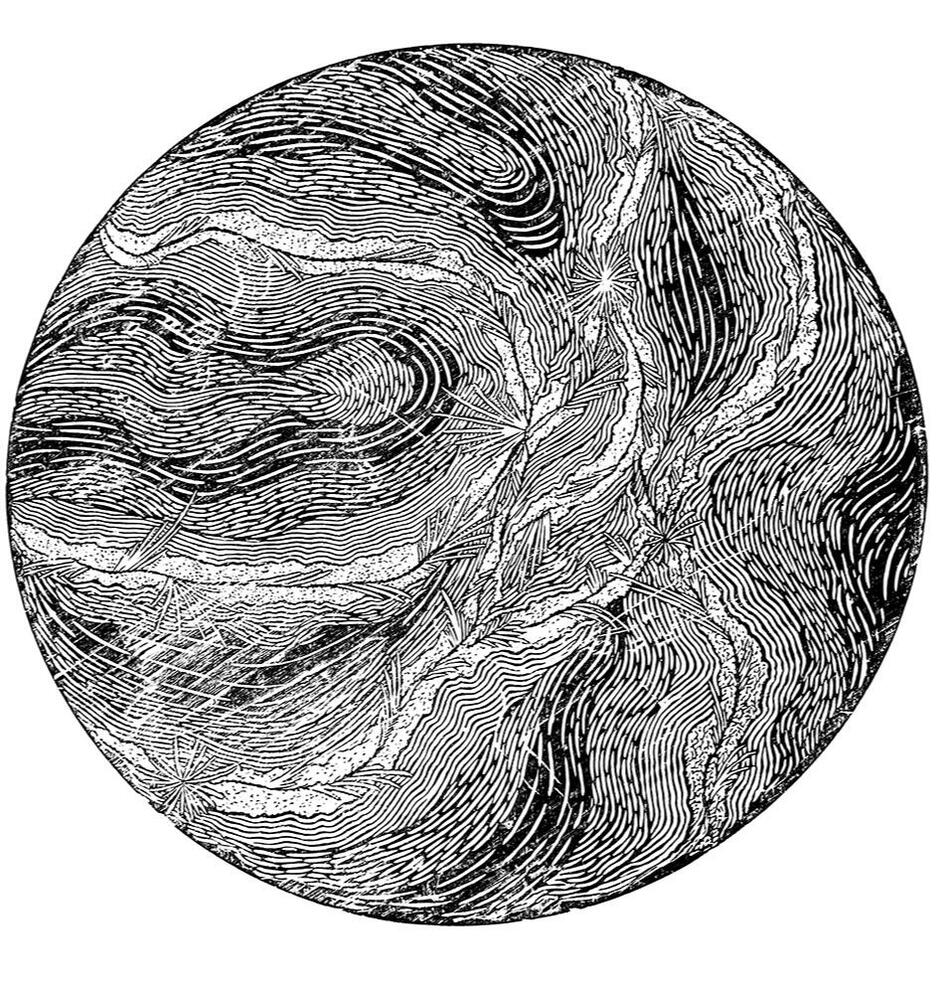 Early Earth
Woodblock print on paper
Size: 30x30"
Price: $1250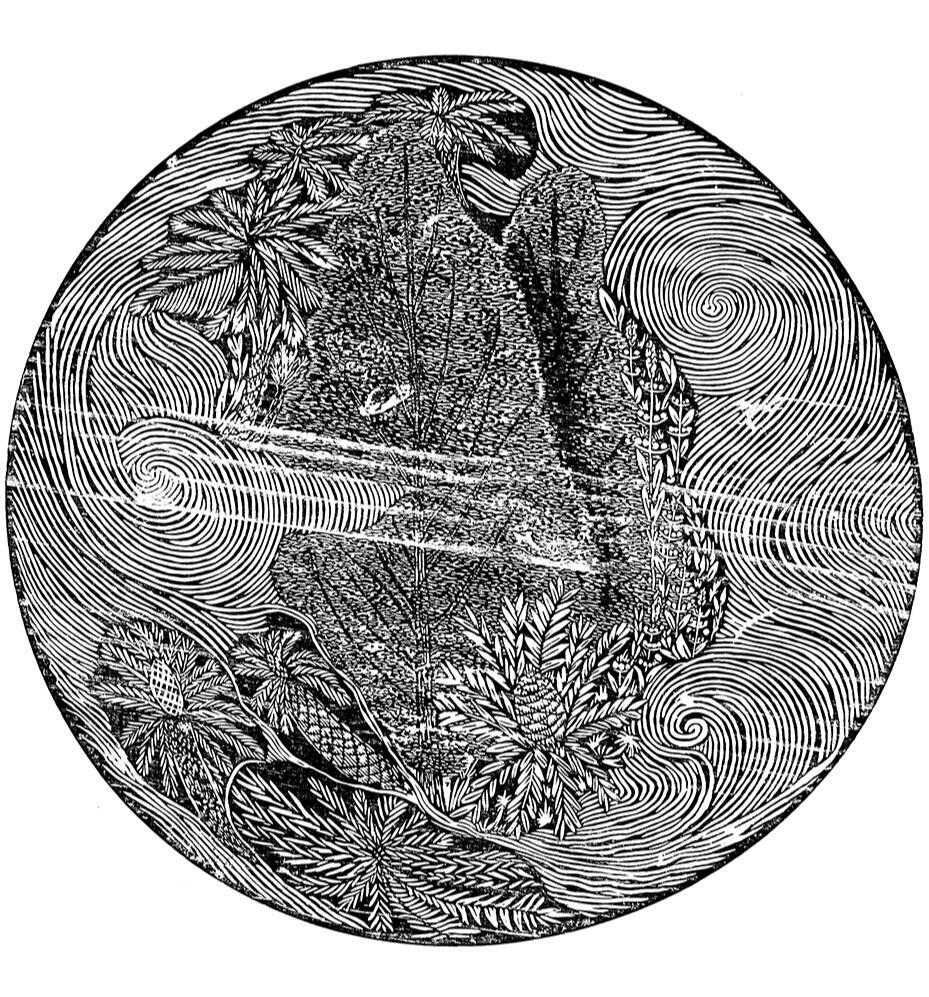 Pangea
Woodblock print on paper
Size: 30x30"
Price: $1250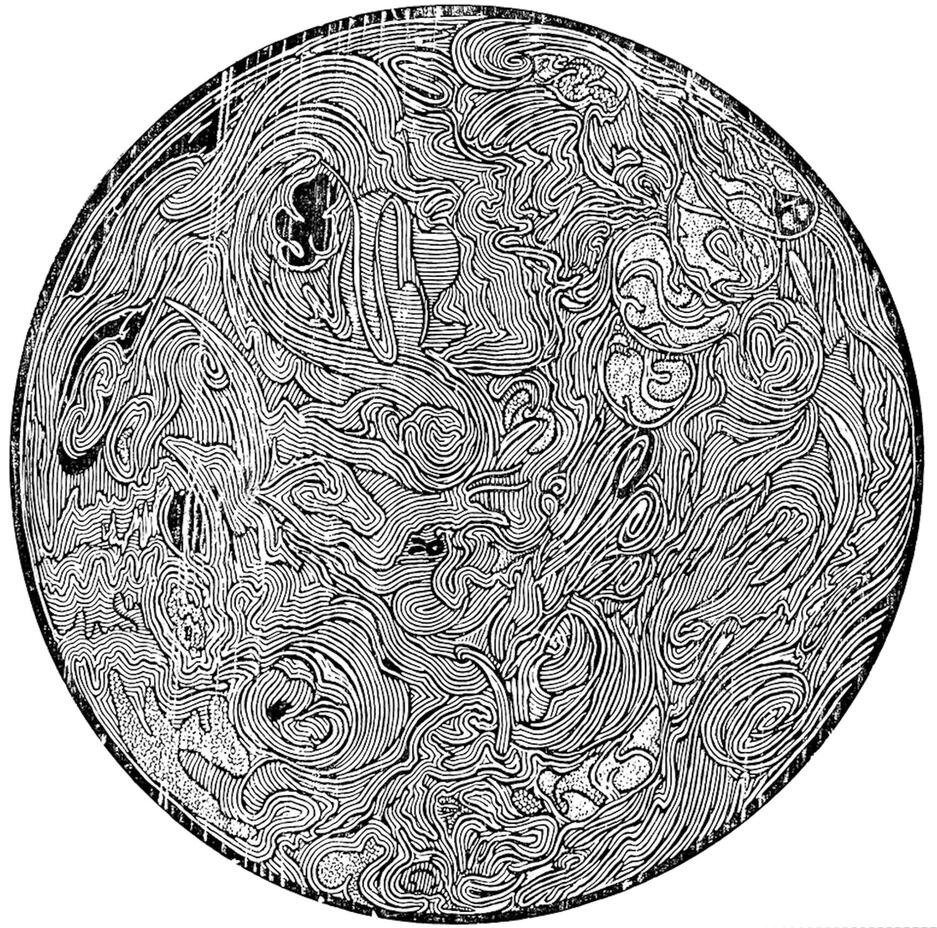 Future Earth
Woodblock print on paper
Size: 30x30"
Price: $1250